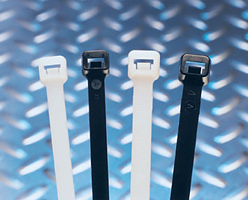 FLEXIBLE DUCT TIES 24"
Please Login to see pricing.
Cambridge Heavy Duty cable ties have maximum tensile strength for maximum durability. These ties, known as "Duct Straps" in the HVAC industry, are great for securing ductwork, large wires and cables, and hanging fences and signs. They feature a bent tip for smooth insertion in hard-to-reach places. Their rounded tips prevents users from cutting themselves on sharp edges, and makes it easier to insert them into hard-to-reach places. These cable ties are easy to use and lock quickly and securely around wire bundles, cables, ropes, and more.
Quantity Available
Midvale
53
Orem
0
Ogden
4
Logan
0